Before the Blog is a weekly blog meme hosted by Karis Jacobstein over @ YA Litwit. It's an opportunity to showcase books a blogger read and loved prior to starting their blog .  I love this idea because there are so many amazing books I haven't reviewed on A Novel Glimpse because I read them a long time ago. The only rules to this meme are to answer the following questions about the book chosen to review:
Why did you choose this book? 

When did you read this book? 

Who would you recommend this book to?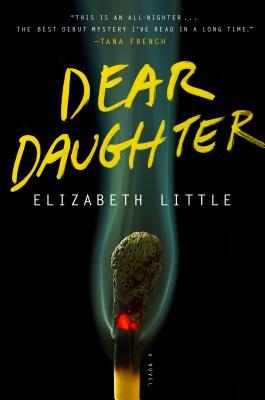 Dear Daughter by Elizabeth Little
Publication Date: July 31, 2014
Publisher: Viking
Synopsis:
After spending ten years in prison for the murder of her mother, socialite Janie Jenkins is being released on a technicality. Janie is going to use her new found freedom to figure out what exactly happened the night of her mother's death. Janie has no memory of that night. Did she really kill her mother?
While Janie's looking for the truth, she's also trying to hide from the media. Everyone is convinced she got away with murder and they're waiting for her to make a mistake.
My rating: 5 out of 5 stars
Why did you choose this book? 
I've been seeing a lot of press lately for The Girl on the Train by Paula Hawkins. It's been hailed as the next Gone Girl. I liked it, but if you asked me, Dear Daughter was the next Gone Girl.  Dear Daughter was a fast paced, addictive thriller. I couldn't put it down. Janie was snarky and fun to read (think Paris Hilton with a smart and sassy tongue). The twists and turns kept me guessing and wanting to know more. I absolutely loved it. I don't think nearly enough people have heard of or read it.
When did you read this book?
I just happened to win a copy of Dear Daughter from Goodreads and Viking Books at the end July of 2014. I read it in two days. It was right after I finished reading Gone Girl. The timing couldn't have been more perfect.
Who would you recommend this book to? 
It's definitely a thriller for those that loved Gone Girl, In the Woods, The Weight of Blood, and Girl on the Train.