Once again, I was tagged by the lovely Tash @ The Bookie Monsters for another fun fall tag called The Fall Time Cozy Book Tag. The Fall Time Cosy Book Tag was created by Sam @Novels and Nonsense.
Note: All book synopses are courtesy of Goodreads.
---
Crunching Leaves: The world is full of colour. Choose a book that has reds, oranges and yellows on the cover.
Siem Sigerius is a beloved, brilliant professor of mathematics with a promising future in politics. His family—including a loving wife, two gorgeous, intelligent stepdaughters and a successful future son-in-law—and carefully appointed home in the bucolic countryside complete the portrait of a comfortable, morally upright household. But there are elements of Siem's past that threaten to upend the peace and stability that he has achieved, and when he stumbles upon a deception that's painfully close to home, things begin to fall apart. A cataclysmic explosion in a fireworks factory, the advent of internet pornography, and the reappearances of a discarded, dangerous son all play a terrible role in the spectacular fragmentation of the Sigerius clan.

A riveting portrait of a family in crisis and the ways that even the smallest twists of fate can forever change our lives, Bonita Avenue is an incendiary, unpredictable debut of relationships torn asunder by lies, and minds destroyed by madness.
---
Cosy Sweater: It's finally cold enough to don warm cosy clothing. What book gives you the warm fuzzies?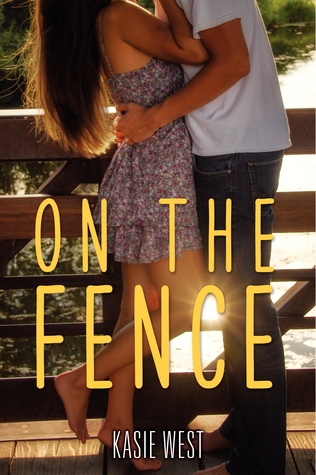 For sixteen-year-old Charlotte Reynolds, aka Charlie, being raised by a single dad and three older brothers has its perks. She can outrun, outscore, and outwit every boy she knows—including her longtime neighbor and honorary fourth brother, Braden. But when it comes to being a girl, Charlie doesn't know the first thing about anything. So when she starts working at chichi boutique to pay off a speeding ticket, she finds herself in a strange new world of makeup, lacy skirts, and BeDazzlers. Even stranger, she's spending time with a boy who has never seen her tear it up in a pickup game.

To cope with the stress of faking her way through this new reality, Charlie seeks late-night refuge in her backyard, talking out her problems with Braden by the fence that separates them. But their Fence Chats can't solve Charlie's biggest problem: she's falling for Braden. Hard. She knows what it means to go for the win, but if spilling her secret means losing him for good, the stakes just got too high.
---
Fall Storm: The wind is howling and the rain is pounding. Choose your favourite book OR genre that you like to read on a stormy day.
 YA / NA / Adult Contemporary Romances
Kensington Worth had a vision for her senior year. It involved her best friends, her posh private school in downtown Chicago and time alone with her piano until her audition was perfected, a guaranteed ticket into the best music programs in the world.

Instead, a nightmare took over.

It didn't happen all at once, but her life unraveled quickly—a tiny thread that evil somehow kept pulling until everything precious was taken from her. She was suddenly living miles away from her old life, trapped in an existence she didn't choose—one determined to destroy her from the inside, leaving only hate and anger behind. It didn't help that her neighbor, the one whose eyes held danger, was enjoying every second of her fall.

Owen Harper was trouble, his heart wild and his past the kind that's spoken about in whispers. And somehow, his path was always intertwined with Kensington's, every interaction crushing her, ruining her hope for any future better than her now. Sometimes, though, what everyone warns is trouble, is exactly what the heart needs. Owen Harper was consumed with darkness, and it held onto his soul for years. When Kensington looked at him, she saw a boy who'd gotten good at taking others down when they threatened his carefully balanced life. But the more she looked, the more she saw other things too—good things…things to admire.

Things…to love. Things that made her want to be reckless.

And those things…they were the scariest of all.
---
Cool Crisp Air: What's the coolest character you'd want to trade places with?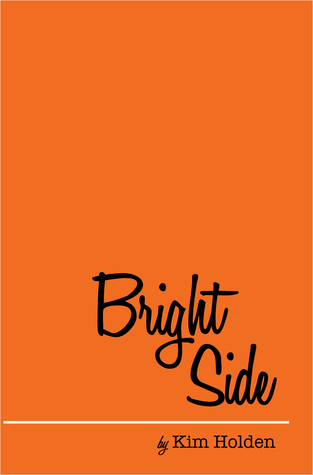 Yikes. I don't want to trade places with her, but I want to have Kate's attitude from Bright Side. "Do epic"
Secrets.
Everyone has one.
Some are bigger than others.
And when secrets are revealed,
Some will heal you …
And some will end you.

Kate Sedgwick's life has been anything but typical. She's endured hardship and tragedy, but throughout it all she remains happy and optimistic (there's a reason her best friend Gus calls her Bright Side). Kate is strong-willed, funny, smart, and musically gifted. She's also never believed in love. So when Kate leaves San Diego to attend college in the small town of Grant, Minnesota, the last thing she expects is to fall in love with Keller Banks.

They both feel it.
But they each have a reason to fight it.
They each have a secret.

And when secrets are revealed,
Some will heal you …
And some will end you.
---
Hot Apple Cider: What under hyped book do you want to see become the next biggest, hottest thing?
Well, I kind of have three. The first is actually more of an author than a book. I would love to see readers fall in love with author Ginger Scott. She's awesome. I love her books. They're NA Contemporary Romances filled with beautiful writing and stories that are easy to connect with. Her upcoming new release is Wicked Reckless. It's a sequel to Wild Reckless. The second and third are books I wish everyone would read. Beth Flynn's Nine Minutes is an amazing thriller with a ton of twists and turns. Kim Holden's Bright Side is an amazing journey of love and life. I used Bright Side as an answer to a previous question, so you can check out the cover and synopsis above.
Andrew Harper grew up in a house marked by tragedy. His older brother Owen did his best to shelter him, but you can only be protected from life's pain for so long. Eventually, you end up just feeling numb…and isolated.

Loneliness was the one constant in Andrew's life. Until one girl, met by chance in a high school hallway, changed everything. Emma Burke was a mystery and all that was beautiful in this world, the only air Andrew ever wanted to breathe. She took the lonely away, and filled it with hope and color, and Andrew would do anything to keep her safe, happy and whole.

But sometimes, what feels good and right is what ends up hurting us the most. And when Andrew and Emma are faced with an impossible decision, Andrew is tested to see just how far he's willing to go for the girl who owns his heart.

Cuts are deep.

Scars are left behind.

And revenge beckons.

When Andrew finally gets his chance, in college, five years after his first love broke him completely, he finds out old feelings don't really disappear just because you say you hate someone. The more he tries to avenge all that he believes he lost, the more he uncovers the real story of what happened years before.

Love is wicked. But a restless heart is never satisfied beating on its own. Can Andrew and Emma make it right before it's too late, or will the ties that bind them now destroy their only chance at a future?

On May 15, 1975, fifteen-year-old Ginny Lemon is abducted from a convenience store in Fort Lauderdale by a member of one of the most notorious and brutal motorcycle gangs in South Florida.

From that moment on, her life is forever changed. She gets a new name, a new identity and a new life in the midst of the gang's base on the edge of the Florida Everglades—a frightening, rough and violent world much like the swamps themselves, where everyone has an alias and loyalty is tantamount to survival.

And at the center of it all is the gang's leader, Grizz: massive, ruggedly handsome, terrifying and somehow, when it comes to Ginny, tender. She becomes his obsession and the one true love of his life.

So begins a tale of emotional obsession and manipulation, of a young woman ripped from everything she knows and forced to lean on the one person who provides attention, affection and care: her captor. Precocious and intelligent, but still very much a teenager, Ginny struggles to adapt to her existence, initially fighting and then coming to terms with her captivity.

Will she be rescued? Will she escape? Will she get out alive—or get out at all? Part psychological thriller, part coming-of-age novel, filled with mystery, romance and unexpected turns, Nine Minutes takes readers into the world of one motorcycle gang and inside the heart of a young girl, whose abduction brought about its fall.
---
Coat, Scarves and Mittens: The weather has turned cold and it's time to cover up. What's the most embarrassing book cover you own that you like to keep hidden in public?
Okay. I'm not actually embarrassed of it. I mean, I really loved this book. It's just had so many people say the writing was terrible. My best friend (an English/Communications major) thought the writing was horrible — but she still loved the story. So, it's one of those that I might be embarrassed at times to admit I loved.
 About three things I was absolutely positive.

First, Edward was a vampire.

Second, there was a part of him – and I didn't know how dominant that part might be – that thirsted for my blood.

And third, I was unconditionally and irrevocably in love with him.

In the first book of the Twlilight Saga, internationally bestselling author Stephenie Meyer introduces Bella Swan and Edward Cullen, a pair of star-crossed lovers whose forbidden relationship ripens against the backdrop of small-town suspicion and a mysterious coven of vampires. This is a love story with bite.
---
Pumpkin Spice: What's your favourite fall time comfort food/foods?
Ooo! I'm going with homemade Macaroni and Cheese! I make it using the recipe off the back of the Safeway brand macaroni noodles. I do cut the butter way down and use a mixture of Gouda and sharp cheddar cheese in it. So yummy! Oh, and I love hot chocolate, too.
---
I tag:
Aentee @ Read at Midnight
Arec @ Rainy Thursdays
Ashley @ Dear World
Carrie @ reading is my superpower
Dimple @ enthrallingdimple
Erika & Miedjel @ partnersinbooks
Erika @ Erika in Bookventureland
Giselle @ Hardwork Boulevard
Jess @ Princessica of Books
Jessica @ Mud and Stars
Joey @ Thoughts and Afterthoughts
Jordyn @ J. Bookish
Kelly @ Here's to Happy Endings
Kristy @ Kristy Reads
Michelle @ Mishi-Reads
Paige @ Page by Paige
Skylee @ The Night Girl
Sue @ Sue's Reading Corner
Syc @ The Lit(erature) Mermaid
Tasha @ Head In The Clouds, Heart In The Books
and anyone else that wants to join in!