Thank you to Erika @ Erika in Bookventureland for tagging me to complete The Book Cover Guessing Challenge. Erika has an awesome blog. You need to check it out, if you haven't yet. Now for the challenge!
The Book Cover Guessing Challenge was originally created by Trey Schnarr Books. For this challenge, you first pick a few books (typically well known) that you have little to no knowledge of. Next, you guess what they're about. Finally, you compare the actual book blurb on Goodreads with your guess and see how close you were.
Now that I've typed that out all out, I'm pretty sure I've already done this one. But who cares?!?! It's so much stinkin' fun that I'm doing it again! 😉
---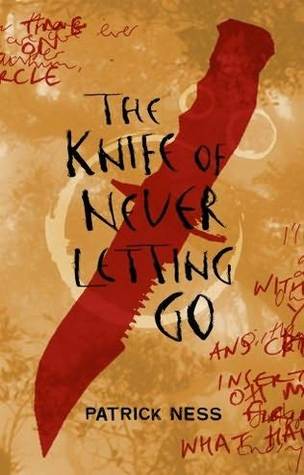 My guess:
The Knife of Never Letting Go is about a girl who can't let go of her first love. She lost him in a tragic accident and doesn't want to move on. The pain is a knife in her heart until she meets an angsty, broken guy. He's everything she shouldn't want, but he takes the pain away. Until his past comes back to haunt them both.
Goodreads blurb:
Prentisstown isn't like other towns. Everyone can hear everyone else's thoughts in an overwhelming, never-ending stream of Noise. Just a month away from the birthday that will make him a man, Todd and his dog, Manchee — whose thoughts Todd can hear too, whether he wants to or not — stumble upon an area of complete silence. They find that in a town where privacy is impossible, something terrible has been hidden — a secret so awful that Todd and Manchee must run for their lives.

But how do you escape when your pursuers can hear your every thought?
How did my guess compare?
Ha! No where near the actual book blurb! Obviously, I read too many New Adult novels.
---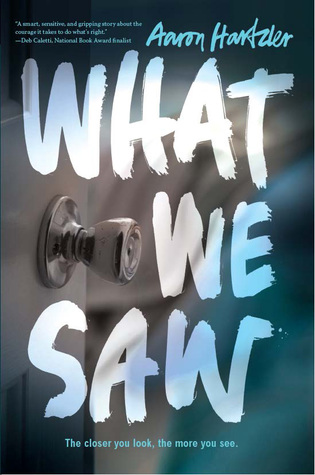 My guess:
What We Saw is a kind of a reboot of I Know What You Did Last Summer by Lois Duncan. A group of teenagers is involved in a horrible car accident. They hide what they did but someone knows. He/she taunts the teenagers with cruel revenge.
Goodreads blurb:
Kate Weston can piece together most of the bash at John Doone's house: shots with Stacey Stallard, Ben Cody taking her keys and getting her home early—the feeling that maybe he's becoming more than just the guy she's known since they were kids.

But when a picture of Stacey passed out over Deacon Mills's shoulder appears online the next morning, Kate suspects she doesn't have all the details. When Stacey levels charges against four of Kate's classmates, the whole town erupts into controversy. Facts that can't be ignored begin to surface, and every answer Kate finds leads back to the same question: Where was Ben when a terrible crime was committed?

This story—inspired by real events—from debut novelist Aaron Hartzler takes an unflinching look at silence as a form of complicity. It's a book about the high stakes of speaking up, and the razor thin line between guilt and innocence that so often gets blurred, one hundred and forty characters at a time.
How did my guess compare?
Obviously, it was no where close to the real thing. Well, except for a terrible crime was committed.
---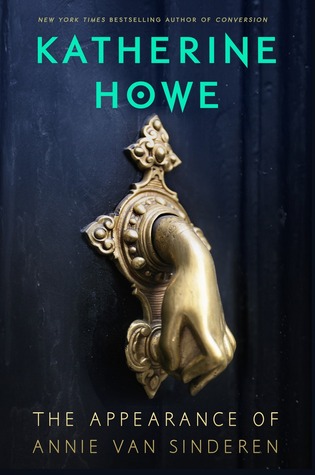 My guess:
The Appearance of Annie Van Sinderen is about a family that has a "long lost relative" show up at their door. Annie is strange. She appears in the room with you when you're not expecting it. She knows what's been said in conversations she couldn't have heard. The kids in the family are terrified of her. The parents don't believe them. The something awful happens to one of the children and only Annie knows what they truth really is.
Goodreads blurb:
It's summertime in New York City, and aspiring filmmaker Wes Auckerman has just arrived to start his summer term at NYU. While shooting a séance at a psychic's in the East Village, he meets a mysterious, intoxicatingly beautiful girl named Annie.

As they start spending time together, Wes finds himself falling for her, drawn to her rose petal lips and her entrancing glow. But there's something about her that he can't put his finger on that makes him wonder about this intriguing hipster girl from the Village. Why does she use such strange slang? Why does she always seem so reserved and distant? And, most importantly, why does he only seem to run into her on one block near the Bowery? Annie's hiding something, a dark secret from her past that may be the answer to all of Wes's questions . . .
How did my guess compare?
So, I got that Annie's strange and she's got the answer to the question. That's about it!
---
Okay, so now it's my turn to tag some people! Have fun with this one!
Alex @ Alextheshadowgirl's Blog
Arec @ Rainy Thursdays
Bea @ When Curiousity Killed the Cat
Carrie @ reading is my superpower
Dimple @ enthrallingdimple
Hayley @ Rather Too Fond of Books
Jenna @ Reading with Jenna
Jordyn @ J. Bookish
Kelly @ Here's to Happy Endings
Kristy @ Kristy Reads
Michelle @ Mishi-Reads
Paige @ Page by Paige
Stephanie @ Stephanie's Book Reviews
Sue @ Sue's Reading Corner
Syc @ The Lit(erature) Mermaid